Towing Service in St. Thomas, VI
All Around Towing is the towing and roadside assistance provider customers in St. Thomas, VI trust to help them in their time of need. We're ready 24/7 to deliver towing and roadside assistance services, including lockout assistance, tire repair and jumpstarts. Our team also provides equipment transportation and hauling services.
We Tow & Truck It All, Big, Medium, or Small
We May Doze… But We Never Close!
Don't let auto troubles keep you from getting to where you need to go. If you're stuck on the roadside and need a little help, give All Around Towing a call! We'll deliver roadside assistance that gets your car back on the road—and if we can't, we'll tow you to safety so you can get the issue fixed. Our towing service in St. Thomas, VI is ready for anything and widely experienced to make sure you're getting the best caliber of service. Our trucks are state-of-the-art and fully-functional, our crew is friendly and professional, and our only mission is to help you any time of the day or night.
Our roadside services include tire repairs, lockout assistance and jumpstarts. If you need a tow, we're equipped for winch-outs, flatbed hauling, heavy-duty towing and more—backed by insurance to give you peace of mind. Is your vehicle done for? No problem! We can haul it to our salvage yard in St. Thomas, VI and scrap it for parts. We're the only towing provider you need to call, regardless of what the situation is. We even move equipment and shipping containers! Let us show you why we're the towing company people on the island call when they want prompt service and peace of mind.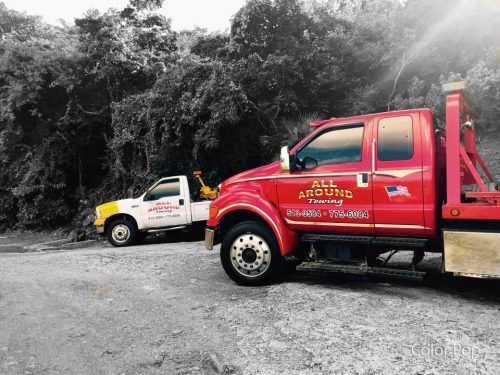 Towing – Boom and Flatbed Service  

Light 

Medium 

Heavy Duty
Roadside Assistance 

Lockouts

Jump Start 

Tire Change 

Minor Tire Repair
Recovery

Winching Service 

Overturns 

Recovery 
Our fleet is fully-equipped with the newest trucks on the island and we have vehicles for any situation, including wreckers and flatbed trucks.
We're a family-owned and -operated company, taking pride in our professionalism and the well-mannered staff we employ.
Our business is fully licensed to perform all towing services. We're also insured to protect you and your vehicle.
One of our specialty services includes moving shipping container trailers for people moving to the Islands from the mainland.
Need a Tow?
Wherever and whenever your vehicle breaks down, All Around Towing is ready to help.
Call us for towing or roadside assistance services today and we won't let you down!
Providing professional towing, auto salvage, and roadside assistance to all of St. Thomas Island, including:
St. Thomas, VI
Charlotte Amalie, VI
Estate Bovoni, VI
Lindquist Beach, VI
Smith Bay, VI
Red Hook, VI
Benner, VI
Nazareth, VI
Nadir, VI
Marendal, VI
Tutu, VI
Hoffman, VI
Donoe, VI
Bolongo, VI
Raphune, VI
Estate Thomas, VI
Mandahl, VI
Bellevue, VI
Rosendal, VI
Lovenlund, VI